The face of a new initiative
Stronger Bahamas
// branding, campaign
The Government of The Bahamas required a logo and identity to support their new initiative: Stronger Bahamas. It promotes a safe country with a fair and efficient justice system, thriving and diverse economy, and a positive place for families to live and grow. The identity needed to be inviting, informative and progressive to convey a strong sense of community and new beginnings.
Stronger Bahamas extends through their three core pillars into many government departments and programs. Safer: reducing crime and justice system reform; Prosperous: job creation, strengthening the economy; and Modern: education and social programs. The identity had to possess the flexibility to function in many different applications, while maintaining a distinct governmental association to expand familiarity with the public.
Strategy
We developed a logo showing a sun coming over the horizon, with the rays of the sun made up of many hands. This is reflective of the initiative's goal of a safe, prosperous and modern future – the rising sun depicts new beginnings and a flourishing future, and the calm waters portray a safe environment. The many hands represent humanity banding together towards a common goal.

We used The Bahamas' national colours of yellow, blue and black for their cultural and political meanings. The yellow represents the golden sand and shining sun, the blue represents the sea surrounding the country, and the black symbolizes the strength of the Bahamian people.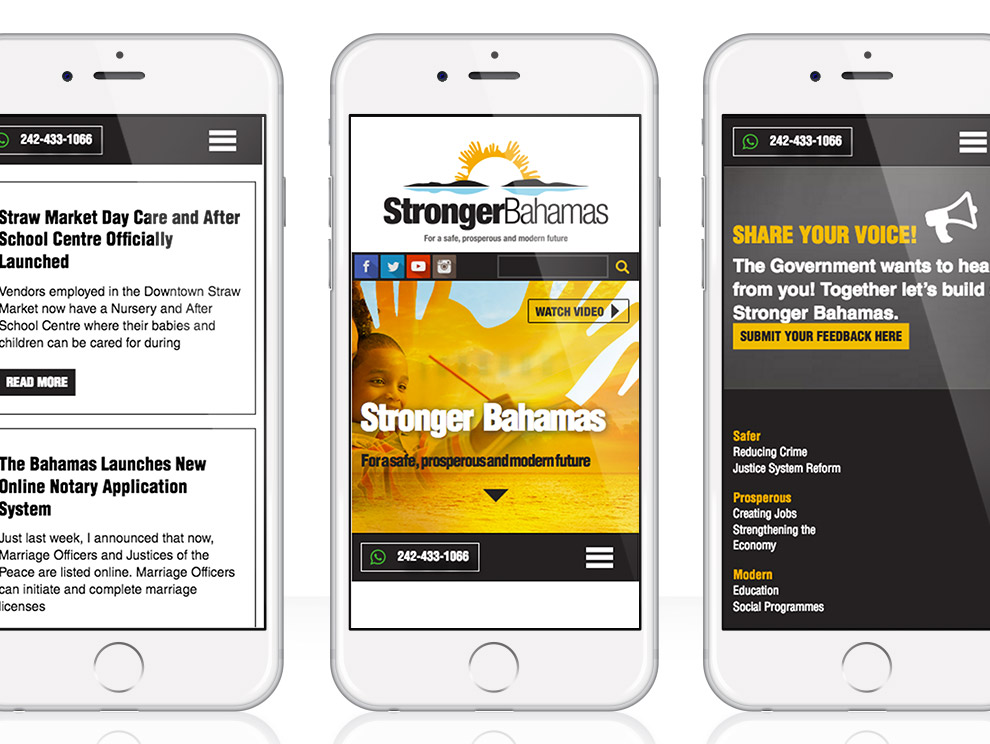 Integration
We integrated the branding throughout their communications materials, developing visual cohesion and reinforcing the core messages of the initiative. This helps strengthen positive public perception of the government's direction and instills trust in the program's goals.

We also designed and developed a website for the initiative – it highlights news, accomplishments and key goals, and engages the audience through a strong emphasis on public collaboration.
Overall, the identity has been effective in facilitating the government's mission by promoting their activities, goals and ideals. It engages with the public to address the nation's challenges, and encourages Bahamians to work together to build a safe, prosperous and modern future.
back